PET washing line Bottle to bottle food grade
Application range of PET bottles:
1. Plastic Carbonated beverage bottle
2. Plastic Drinking water bottle
3. Plastic Juice Bottle
4. Plastic Tea drink bottle
Usage of cleaned PET flakes:
- Polyester staple fiber
- Polyester filament
- PET Sheet
- PET granules
- PET Packing belt etc.
Technical characteristics
1. The bottle-to-bottle recycling PET washing line is mainly used in food-grade PET flakes recycling projects. It has a high degree of automation and effectively avoids human mistake.
2. High efficient trommel machine to ensure separation of materials from other debris: removal of stones, wood chips, small metals etc.
3. Our label Remover Machine can be remove the labels before crusher, especially PS and PVC material labels. Through the cooperation of the rotator blades and the fixed blades, the labels cover the bottle body are peeled together. Using the difference between wind and gravity to completely separate the bottle body and the label. Preserve bottle and bottleneck integrity, to reduce the loss of high-quality bottle mouth material.
4. Auto sorting system can sort different material and different color bottles, Can greatly reduce the input of human resources and improve production efficiency, to achieve high auto cleaning recycling process.
5. Sorting System is a final sort before crushing. Sort the material which is the previous machine not finished (include different material bottles, different quality bottles, less labels, metals, garbage etc., Manual sorting is a re-inspection and a necessary way to guarantee quality.
6. Crusher system adopt Wear-resistant design. Ensure continuous system operation for a long time.
7. Hot washing effectively removes the residual glue, oil stains and some small impurities on the surface of the bottle, which is critical to the life of the downstream product filter components and product quality.
8. High-speed centrifugal washing system is as a suitable rotating speed to push Corresponding blade hitting strength for different material. To achieve good wash effect.
9. The washing tank roller is designed for strong pressure underwater washing to remove residual impurities.
10. According the different flakes moisture content requirement, you can choice only centrifugal dryer machine or pipe drying system.
11. The complete line is automatic and ensure the safety.
More Photos of our PET washing line: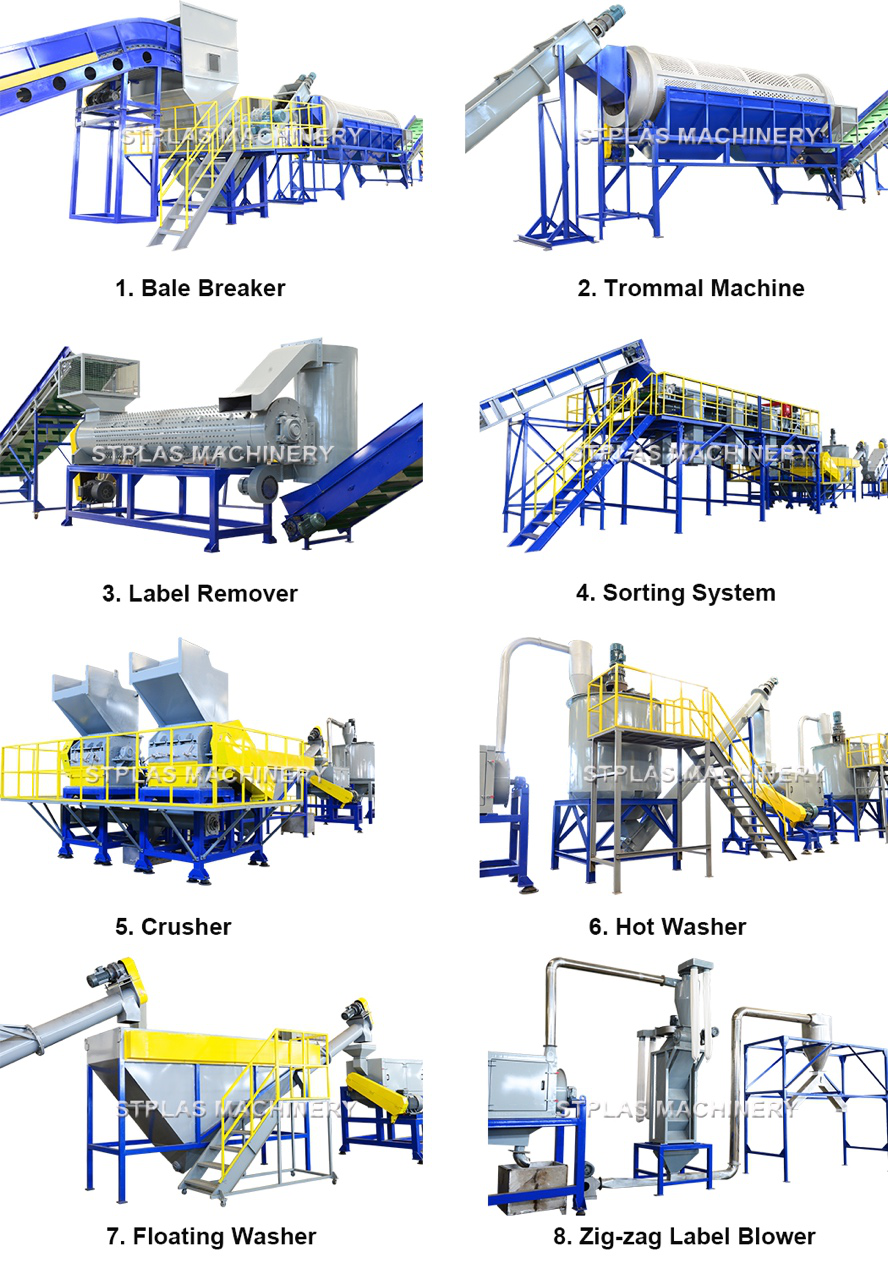 The quality of waste PET bottles is various, and different customers have different quality requirement of recycled PET.
Our Company provides customized solutions to meet different customers needs.
Generally, They have three stages: bottle to bottle, filament, fiber stage.
Quality Sheet of Final PET flakes Bottle to bottle Stage for your reference:
| | | | | | | | | |
| --- | --- | --- | --- | --- | --- | --- | --- | --- |
| Moisture | Glue | PP/PE | Metal | Inorganic matter | Label | PVC | PH | Total impurity |
| <0.7% | <10ppm | <15ppm | <10ppm | <10ppm | <15ppm | <10ppm | 7.5±0.5 | <100ppm |
Main Technical Parameter:
| | | | | |
| --- | --- | --- | --- | --- |
| Model | STPET-1000 | STPET-2000 | STPET-3000 | STPET-5000 |
| Capacity (kg/h) | 1000 | 2000 | 3000 | 5000 |
| Water consumption (m3/h) | 2.25 | 2.25 | 4.5 | 9 |
| Steam Requirement(kg/h) | 400 | 700 | 1000 | 1500 |
| Power Consumption (kw) | 260 | 500 | 700 | 1200 |
| Labor required (person) | 4-5 | 5--6 | 6-8 | 6-8 |
| Factory Area required (m2) | 800 | 1200 | 1800 | 2200 |
PET flakes process: